[ad_1]

Update (1315ET): Having done nothing but insist on the continuation a religion-driven rate-cutting environment overnight, sending the lira above 18/USD, Turkish President Erdogan made another appearance this afternoon announcing extraordinary measures to bolster the Turkish lira, including the introduction of a new program that will, in his words, protect savings from fluctuations in the local currency.
The government will make up for losses incurred by holders of lira deposits should the lira's declines against hard currencies exceed interest rates promised by banks, Erdogan said after chairing a cabinet meeting in Ankara.
"From now on, none of our citizens will need to switch their deposits from the Turkish lira to foreign currencies because of their concerns that the exchange rate" fluctuations might wipe out gains from interest payments, Erdogan said.
The measures are intended to mitigate retail investors' demand for dollars.
While the fact that to do this, he would need to print more money seem to have been ignored, the Lira suddenly exploded higher in what appears to be nothing more than a well-engineered short-squeeze for now: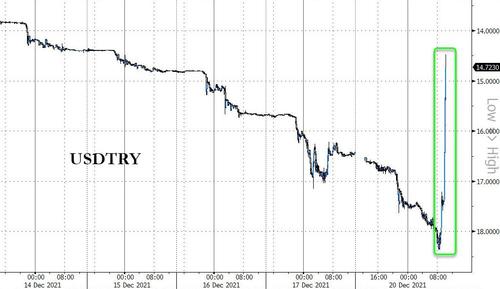 This is one of the biggest bounces in the Lira on record (larger at its peak that during the August 2018 crisis and the biggest intraday bounce since 1994)
Below is a summary from Bloomberg of other steps announced by Erdogan on Monday:
Authorities will offer non-deliverable forwards to help exporters mitigate foreign-exchange risks emanating from the elevated levels of volatility.

"Turkey has neither the intention nor the need to take the slightest step back from the free market economy and the foreign-exchange regime," Erdogan said.

Withholding tax for investments in lira notes issued by the government will be reduced to 0% from 10% currently.

Government will match 30% of all contributions made by private-sector workers to the optional pension system, up from the current level of 25%.
The exporters-specific NDFs may backfire and create a bifurcated currency system, forcing demand for a black-market dollar exchange (we have seen this before).
We suggest not reading too much into this rip – how many times did the Venezuelan Peso react before heading to hyperinflation. 
*  *  *
Update: as expected, moments after the first circuit breaker was lifted, the furious selling returned, sending the Borsa Istanbul down 7.1%, and triggering a second circuit breaker for the day.
The local market collapse is an ominous signal because until Friday, stocks had generally offset the collapse in the lira, reaching all time highs before the relationship suddenly snapped over the past two trading days. Meanwhile, in USD terms Turkish stocks have continued to drift lower and are now back to levels last seen in 2004, confirming that the stock market is not a viable store of value during hyperinflation.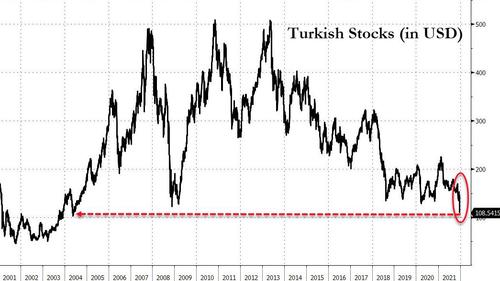 * * *
Turkish stocks crashed again following Friday's historic rout, prompting a fresh automatic marketwide trading halt after the lira slid to a record low following Erdogan's latest comments that he would not allow rates to rise. The Borsa Istanbul 100 Index tumbled 5%, after climbing as much as 3.1% earlier. Trading was set to restart at 4:23 p.m. Istanbul time, according to the bourse's statement.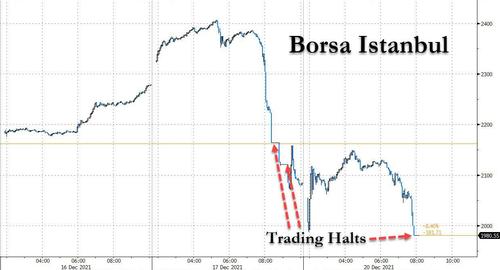 This was the second session in a row that Turkish equities' trading is halted due to sharp losses. The index plunged as much as 9.1% on Friday, triggering automatic circuit breakers during the second-steepest selloff of the year. The slump was made worse by high levels of margin trading among local investors who have borrowed funds to join a recent rally in stocks.
Margins calls "led to snowballing losses" on Friday, turning a price correction into "panic selling," said Tuna Cetinkaya, assistant general manager at the Info Yatirim brokerage, according to Bloomberg.
While the exchange has since reopened, it is now down -6.7% and on pace for a second consecutive circuit breaker of the day.
Meanwhile, the plunge in the lira continued, dropping to a fresh all time low of 17.84 against the dollar as of this post, after Turkish President Recep Tayyip Erdogan pledged to continue cutting interest rates, referring to Islamic proscriptions on usury as a basis for his policy.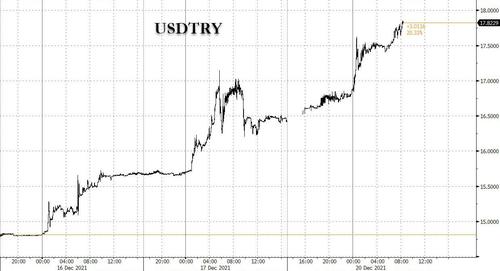 The lira's 58% decline this year in the wake of 500 basis points of central bank rate cuts has sent local investors flocking to stocks to shield their savings, making Istanbul among the best-performing markets of 2021 in local currency terms, but the worst when measured in U.S. dollars.
[ad_2]

Source link