[ad_1]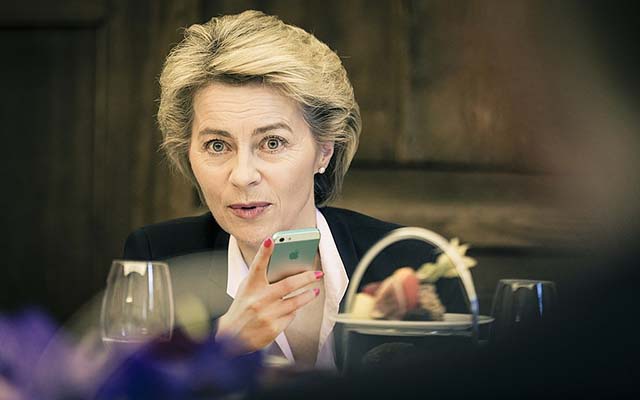 As early as April 2021, the New York Times published an article addressing the topic: "How Europe Sealed a Pfizer Vaccine Deal With Texts and Calls"(" How Europe sealed a Pfizer vaccine contract with SMS texts and calls ")
Even then, the head of the EU Commission von der Leyen was "not amused", but on this side of the pond the matter was not given much attention. The main thing was that the vaccination doses were there, many hoped. No matter how. from Niki Vogt
At that time it was already a feat in the eyes of the frightened citizens to get hold of vaccination doses at all. But now the hangover mood is spreading. Unfortunately, vaccination does not make you free. And now questions arise.
At the time, the New York Times reported very puzzled about the highly unusual process of taking orders for 1.8 billion doses of Pfizer / BioNTech's acclaimed gene syringes:
A billion dollar deal on behalf of the EU between Commission President von der Leyen and Pfizer's managing director, Albert Bourla, was negotiated by phone and text message and was also firmly agreed. Why not. You just do it casually á la "Oh, and bring a pizza with you!" – "What do you want on it?" – "Just Margherita" – "Okay".
That was a really "unconventional deal". And that via messenger services such as Signal or What'sApp. The latter in particular is anything but safe.
The New York Times obviously already knew what it was about then. And very likely she didn't know about a waiter who happened to be standing by and looking over the shoulder of the Commission President.
That's exactly how it turned out. The US-German pharmaceutical tandem Pfizer / BioNTech then made the deal and was thus the most important vaccine supplier in Europe.Germany »The traffic light government will drive this country against the wall«)
The New York Times did not report on negligible little things, however: Petitessen, how many billions of euros the "Comirnaty Deal" cost, how liability issues were regulated and whether there should be preferential deliveries among the EU countries.
The later agreement in paper was out of necessity disclosed, but essential negotiation details had been blacked out – in other words, a middle finger in principle.
Netzpolitik.org wanted to know more, but was thrown out coldly:
"The European Commission does not want to make possible agreements between Ursula von der Leyen and the pharmaceutical giant Pfizer transparent. This emerges from a response from the Commission to the EU Ombudsman Emily O'Reilly, netzpolitik.org now published. Specifically, it is about messages that the EU Commission President is said to have exchanged directly with Pfizer CEO Albert Bourla in order to thread a vaccine deal. "
The surprising reason: These text messages via Messenger could not be archived. SMS and messages via messenger services are "naturally" short-lived, according to the inquiring EU ombudsman, Emily O'Reilly.
In contrast to e-mails, there is also no technical system that enables SMS or messenger messages to be archived. That's pretty cheeky, because you only need to go to "Export Chat" under the settings, and then you can do it very well.
In response to further inquiries, the EU continued to swarm:
"No documents could be found that fall within the scope of your request", put Ilze Juhansone, Secretary General of the EU Commission after.

But "net politics" did not give up:
"In relation to our specific request, it means that there have been several inquiries in the Von der Leyens cabinet. This has repeatedly confirmed that there are no documents that "are necessary for the registration [im Archiv] meet the necessary criteria ". With this nebulous answer, the Commission is once again evading the question of whether there was any direct exchange of messages between Bourla and Von der Leyen – and if so, what was it.
One possible reason for the reluctance is that Von der Leyen and her team could fear legal consequences – if you admit that the messages are still on the commission chief's cell phone or have been deleted there, that may make you open to legal action. "
Despite all the insistence, the really interesting details of the What'S app deal could not be determined. Pfizer did put one Preliminary agreement as well as one Purchase contract before, but see, here too, entire passages have been blackened out.
But EU ombudsman O'Reilly got another one newer, six-sided Answer from the EU Commissionwhich is just as buttoned up as the first one. The European Commission does not want to make the possible agreements between Ursula von der Leyen and the pharmaceutical giant Pfizer transparent.
These are the results of a meeting between the European Ombudsman's investigation team and representatives of the European Commission.
Ombudswoman O'Reilly had no choice but to note with disappointment that it was clear "That messenger apps and SMS are used for professional communication, also for important matters. 'However, if the content of these messages is not kept and stored by the institution, the public will never have access to them.' "
the EU regulation that regulates access to documents, speak explicitly of "content regardless of the form of the data carrier". There is talk of documents on paper, but also those in electronic form, as well as audio and video documents. This probably even includes TikTok videos.
After all, so reported Netzpolitik.org, EU Commission Vice President Věra Jourová announced a few days ago that her officials are working on new rules for document access. Jourová left it open what that means for the archiving of messages like those in which vaccine purchases worth billions were initiated.The hidden suffering: The number of unreported cases of vaccination damage is probably enormous)
…
On April 28, 2020, "The Hollywood Code: Cult, Satanism and Symbolism – How Movies and Stars Manipulate Humanity"(Also with Amazon available), with an exciting chapter: "The revenge of the 12 monkeys, contagion and the coronavirus, or how fiction becomes reality".
On December 15, 2020, ""(Also with Amazon available), with an exciting chapter: "Pop stars as elite puppets in the service of the New Corona World Order".
On May 10, 2021, "
You can get a hand-signed book for 30 euros (all three books for 90 euros) including shipping when you send an order to: info@pravda-tv.com.
Literature:
Codex Humanus – The Book of Humanity
World conspiracy: who are the real rulers of the earth?
Whistleblower
Sources: PublicDomain /dieunbestechlichen.com am 17.12.2021
[ad_2]

Source link