[ad_1]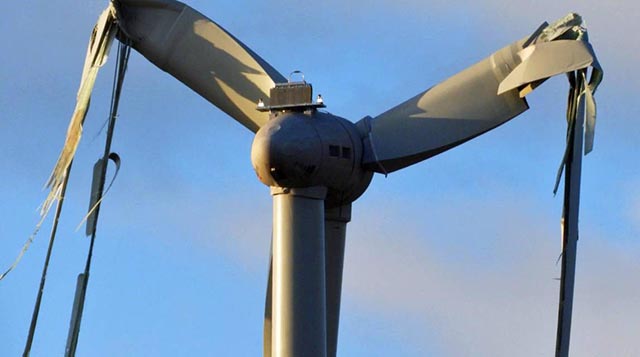 Tens of thousands of people sat there on Sunday evening in the east of Berlin without electricity or heating. First the power went out and as a result of a chain reaction, a thermal power station then failed. Because of the energy transition, there is no longer any protection against such power outages.
The daytime temperatures remained in the lively single-digit range. It's not really warm, but it's January too. Then it was gray on gray, occasionally drizzling and the wind wasn't particularly pleasant either.
The right day to make yourself really warm and comfortable at home. Dimmed light, a warm tea, a good book and a cozy warmth that the radiator emits evenly. Or, in the case of hundreds of thousands of East Berliners, should give up yesterday.
Because in the districts of Friedrichsfelde, Karlshorst, Oberschöneweide and Köpenick nothing went for many hours yesterday, there was neither electricity nor a functioning supply of heating.
In the cogeneration plant intended to supply the relevant households, there was a power outage, at the end of which the subsequent chain reaction "shut down" the cogeneration plant. Rien ne va plus, no longer works.
There is no longer any buffering for such a power failure due to the energy transition. So if the electricity stays off, the cogeneration plant switches itself off for safety reasons.
Conversely, this means that in the dark or calm, when neither solar collectors nor wind power plants provide the necessary energy and the conventional power plants have been switched off for political reasons, there are no more "substitutes" available to step in.
The number of these and similar failures has increased massively in the recent past. However, only since the government in Berlin ordered the shutdown of conventional power plants. Brave new, green, world! (Power grid at the load limit – blackout risk is higher than ever in 2022 (video))
Energiewende: Please fasten your seat belts, it will be bumpy …
The Greens are in an unenviable position: as long as they were predominantly in the opposition, it was easy for them to make excessive demands. During the expansion of conventional energy, the networks and the search for a repository, obstruction was carried out at will. At the same time, they celebrated their sabotage and occupation troops as heroes of the struggle for salvation from the evil of climate change.
But now you yourself are responsible for the energy supply of a modern industrial nation with 83 million inhabitants. And suddenly the announced "big leap forward" turns into timid triple steps.
Apparently, Robert Habeck, the new Federal Minister for Economic Affairs and Climate Protection, found out after the first few weeks in office that he would have to eat considerable amounts of chalk and swallow toads. Presumably some officials in the second row of his ministry – the first row was occupied by his favorites – explained some uncomfortable truths to him with gentle words. After all, he set out to massively increase the number of wind turbines, with which Germany's beautiful nature has already been filled, from the current 31,000 in the next few years. However, that costs electricity customers a lot of money.
Just how much exactly? The Merkel government has made an effort for years to hide the actual figures. However, a closer examination of the costs, which had been split into numerous individual contributions with great sophistication and mixed with other items, showed in September 2019 that the costs of the "energy transition" had meanwhile reached the order of € 1,000 billion (1 trillion).
In the meantime, the corresponding amount has increased further. According to this, Mr. Habeck is looking for further trillions to double the share of "renewable" energies in the electricity mix by 2030. Quite apart from the other unreasonable demands on the citizens: billions for steadily increasing CO2 taxes, billions for subsidizing e-cars, billions for their charging infrastructure, trillions for the energetic forced renovation of almost 20 million German residential buildings, billions for electrified local transport, billions for the construction of numerous new power grids and gas-fired power plants, and and and. Not to forget the exploding construction costs, the rise in food prices ("no junk prices, © Cem Özdemir), electricity and heating costs, flying or gasoline (" 5 marks for a liter of gasoline ", © Joschka Fischer).
If only it weren't for the darned wear and tear …
How uncomfortable the situation already seems to be for him can be seen from the fact that he was in an interview on December 29th. stated only "1,000 to 1,500 wind turbines per year" as the expansion target for wind power. This is somewhat surprising, because with a current inventory of 31,000 wind turbines, some of them reach the end of their service life every year and have to be replaced.

Since their design life is 20 years, 1,550 of them have to be replaced every year. The necessity of such a continuous renewal of a machine stock is general knowledge of every economist, even every master craftsman or fleet manager. This is not part of the curriculum for graduates of philosophy such as Habeck.
The number of 1,000 to 1,500 wind turbines he mentions would not even be enough to keep the current stock. For the planned doubling of the stock by 2030, a further 3875 – a total of 5,425 wind turbines – would have to be built every year in addition to the due replacement of 1,550 wind turbines.
(The contribution of solar power generation to the grid load of 73,205 MW was on December 21, 1018, even at its peak at lunchtime, at a downright miserable 1,414 MW)
Doubling it would not be enough
In reality, the minister's "understatement" about the number of wind turbines actually required is even greater. Even doubling the current share of "renewable energy" in electricity generation would not even come close to being sufficient. The "net zero" goal of the traffic light coalition encompasses much more than just electricity generation, but also the replacement of all fossil and nuclear fuels that keep Germany's citizens warm and mobile and keep their industries running.
The additional storage space required for periods of calm and darkness must also be taken into account. An analysis carried out by the author in 2019 showed that in order to achieve the interim target previously planned for 2038 and now brought forward to 2030, around 139,000 wind turbines would have to be built on the mainland alone at a total cost of presumably at least € 10 trillion.
This target has now been brought forward to 2030. The numbers become completely breathtaking if you consistently calculate these plans down to "net zero". According to calculations by the engineer Prof. Walter Pelka, former President of Hamburg's HafenCity University, 350,000 wind turbines would be required for this, which would be a system for every square kilometer in Germany including the city centers.
Is the traffic light coalition already afraid of its own courage?
The discrepancy between the grandly announced "climate protection" projects in the coalition agreement and the embarrassed announcement of – compared to the claim – downright ridiculous expansion figures highlights the already difficult situation of the new federal government. During the election campaign she bit off a lot more than she can chew. While our Green Foreign Minister wants to annoy Russia by closing Nordstream 2, Russia and China are already pressing ahead with plans for another natural gas pipeline with a capacity of 50 billion cubic meters.
Thanks to a green-red-yellow-black policy of boycotts against all industries that extract fossil raw materials, which has been pursued for years, their supplies will remain scarce for years, which is leading to the price explosions in the energy and raw materials sector that are now becoming noticeable. The population of the affected countries is therefore resentful, as is currently evident in Kazakhstan.
Are Scholz and Habeck already afraid of what could break out in the people if they poured pure wine over the actually planned loads? Or why do we prefer to speak of 1,000 to 1,500 instead of 350,000 wind turbines, knowing full well that this does not correspond to the actual planning in any way. Salami tactics by triple steps.
As the Chinese proverb says, "interesting times" are coming to the population and thus also to the traffic light government. Perhaps a future traffic light government will have to ask Putin for "administrative assistance" against the rebellious people, following the example of Kazakhstan. Please buckle up tight, it will be bumpy …
…
On April 28, 2020, "The Hollywood Code: Cult, Satanism and Symbolism – How Movies and Stars Manipulate Humanity"(Also with Amazon available), with an exciting chapter: "The revenge of the 12 monkeys, contagion and the coronavirus, or how fiction becomes reality".
On December 15, 2020, ""(Also with Amazon available), with an exciting chapter: "Pop stars as elite puppets in the service of the New Corona World Order".
On May 10, 2021, "
You can get a hand-signed book for 30 euros (all three books for 90 euros) including shipping when you send an order to: info@pravda-tv.com.
Sources: PublicDomain /freiewelt.net am 10.01.2022
[ad_2]

Source link