[ad_1]

Update (1218ET): Exxon's Baytown refinery, located 25 miles east of Houston, experienced what Harris County Sheriff's Office called a "major industrial accident" around 0100 local time. By late Thursday morning, the blaze was extinguished. 
No fatalities were reported, but at least four people were injured when an explosion occurred in a hydrodesulfurization unit responsible for removing sulfur from natural gas and refined petroleum products, such as gasoline or petrol, jet fuel kerosene, diesel fuel, and fuel oils. 
The complex's refinery processes about 561,000-barrel-per-day to make gasoline and other fuels. There is no cause for what sparked the explosion or outages at this time. Here's Exxon statement:
Our first priority is people in the community and in our facilities. Air monitoring continues along the fence line. Available information shows no adverse air quality monitoring impact to the community or personnel on site at this time.

We are saddened to inform that four people were injured and are receiving medical treatment. All four individuals are in stable condition. All other personnel have been accounted for.

We are in the process of setting have set up an information line for community members affected by this incident. Please call 1-800-241-9010.

The causes of the incident have not yet been determined. We are coordinating with authorities as appropriate, and all findings will be incorporated in our continuing effort to enhance our safety performance.

We deeply regret any disruption or inconvenience that this incident caused to the community.
* * * 
Gasoline futures rose more than a percent early Thursday morning after an explosion was reported at an Exxon/Mobile refinery in Baytown, Texas. 
The Harris County Sheriff's Office tweeted, "deputies are on the scene of a major industrial accident at 3525 Decker Dr. in Baytown. The Exxon/Mobile plant. Some injuries have been reported." 
A follow-up tweet said, "there have been 4 confirmed injuries, 3 of which were life flighted and 1 was taken to the hospital via ambulance. No fatalities have been reported. There is currently no shelter in place." 
ExxonMobil Baytown Area released a statement that said the "fire" occurred around 0100 local time. 
Around 1 a.m. on 12/23/2021, a fire occurred at our facility. At this time, emergency vehicles and smoke may be noticeable to the community. We are coordinating with local officials, and working to resolve the issue as soon as possible.

— ExxonMobil Baytown Area (@ExxonMobilBTA) December 23, 2021
Images of the refinery that produces more than 584,000 barrels of crude oil per day show part of the facility was on fire early Thursday morning.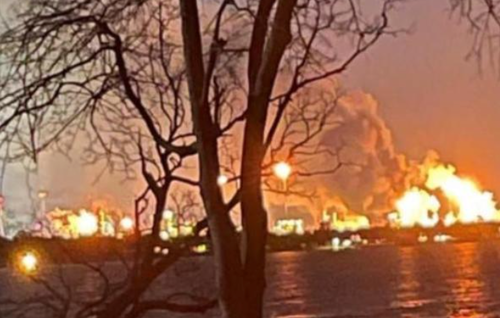 As a result, gasoline futures in New York surged more than 1.5%.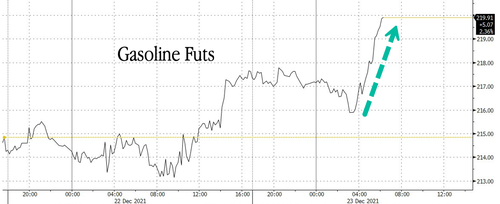 "Our Industrial Hygiene staff continues air quality monitoring at the site and fence line. Available information shows no adverse impact at this time," ExxonMobil continued, adding that it was "coordinating with authorities as appropriate."


[ad_2]

Source link