[ad_1]

It's that time of the year when Jeffrey Gundlach, the billionaire money manager and chief investment officer at DoubleLine Capital, gives his outlook for 2021 in his annual "Just Markets" webcast today at 4:15 p.m., this time titled "I feel young again. Readers can register for the free webcast which will only discuss markets here (or by clicking on the image below).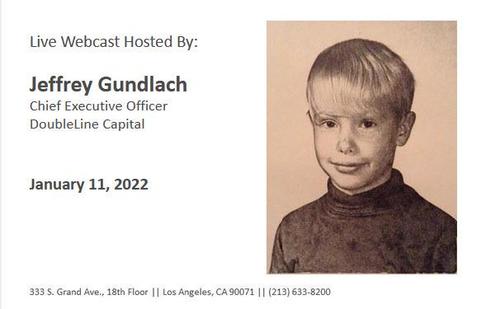 As Bloomberg reminds us, we last heard from Gundlach at the start of December when he focused heavily on inflation, saying that it was likely we could see a 7% print for the CPI reading (it will tomorrow). He also told us that he thought markets could be facing rougher, choppier waters after the Federal Reserve signaled that it was willing to quicken its tapering program.
Since then, we've learned — through the release of meeting minutes — that central bank officials might favor earlier and faster rate hikes as well as a balance-sheet runoff. Indeed, that's caused a lot of choppiness in the stock market, with richly valued equities taking a big beating so far this year.
Gundlach's talking points may overlap with the prominent themes we've been seeing discussed in 2022 outlooks. Listeners will want to know his take on the Federal Reserve's path toward tightening and how it'll play out in markets, as well as his outlook on inflation and what lingering impact the variants of the coronavirus may have.
We will highlight the key presentation notes in this post, which starts off with a bang, and a comparison between Biden and Carter…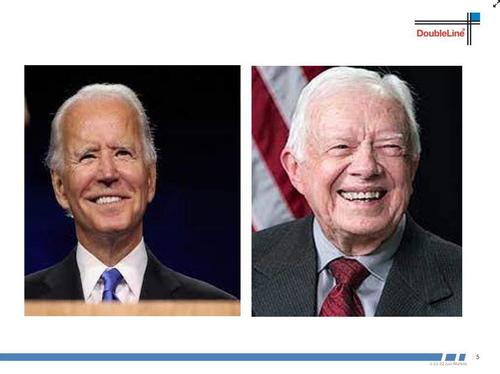 … as part of his contrast of today's negative real rates with the 1970s. Back then interest rates were high, and inflation even higher. Now, rates are low and inflation high. Gundlach says Powell today further acknowledged the inflationary problem. He's referring to the Fed chairman's appearance in front of Congress for his re-confirmation hearing.
Gundlach then goes straight to the big guns, showing the surge in the market…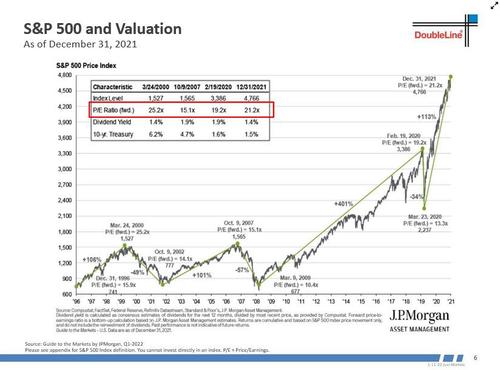 … comparing it to pre- and post-covid goods spending, pointing out that we've had similar goods spending in the past two years as we did in the previous decade…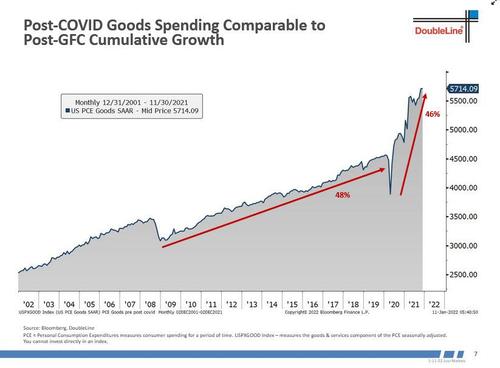 … and ultimately the Fed's balance sheet change.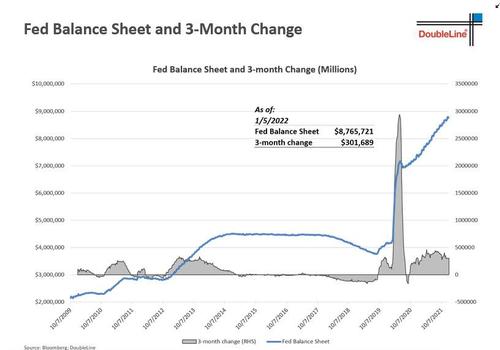 The Doubleline strategist then shows various cross-asset returns.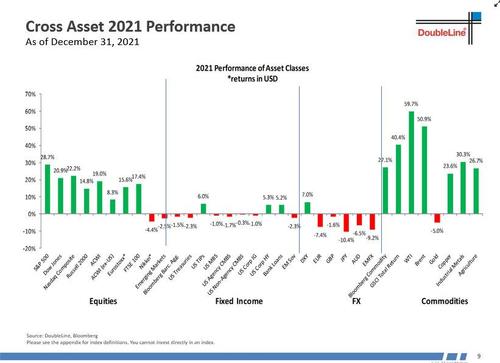 [ad_2]

Source link