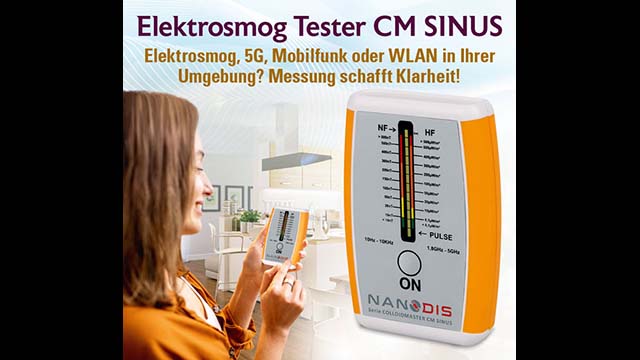 The new and exclusive Electrosmog tester CM SINUS was developed and produced for you by a German specialist company in accordance with strict building biology recommendations (SBM 2015).
It shows you the low-frequency and high-frequency exposure in your immediate vicinity in a simple and clear manner.
The CM SINUS is very easy to use thanks to its one-button operation. The LED display is easy to read even in direct sunlight and the individual stress levels are highlighted in color.
Reliable measurement of electromagnetic fields

Two frequency ranges: Low frequency 10 Hz-10 KHz (measuring range <10 nT-500 nT) and high frequency 1.8 GHz up to max. 5 GHz (measuring range 10 µW / m²-500 µW / m²). The sensitivity of the display was designed especially for the living and sleeping areas.
Developed, designed, programmed and produced in Germany.
The »PULSE« display shows you whether special, pulsed (digital) signals are present.
Even DECT telephones with a radio frequency of 1.8 GHz as well as routers or cell phones that transmit at 5 GHz are displayed.
Can be used both indoors and outdoors.
Simple, clear and bright LED display.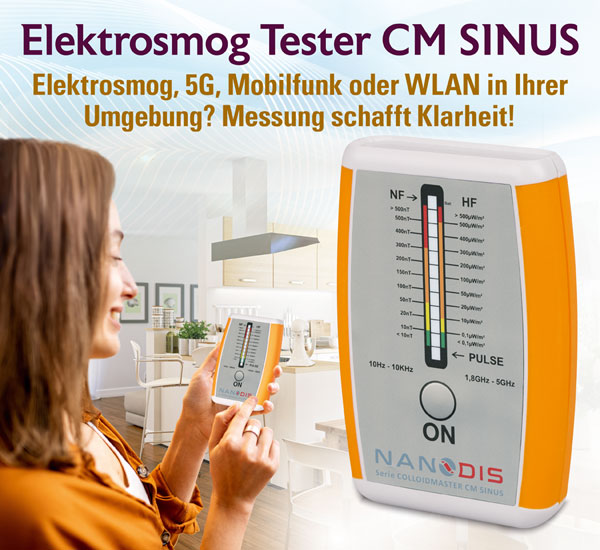 Notice: The »5G« radio range covers a frequency range from approx. 100 MHz to approx. 80 GHz. The CM SINUS evaluates the relevant part of this. (Destruction of humans, animals and nature by 5G radiation: Interview with microwave specialist)
Dimensions: 8 x 12 x 3 cm
Scope of delivery: CM SINUS, Battery, German operating instructions
You can start right away, the battery is already inserted!
Sources: PublicDomain / Kopp Verlag on December 28, 2021